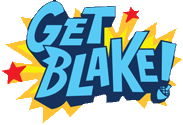 Get Blake! (formerly Blake and the Aliens) is a French/American children's animated television series. In September 2012, the series was announced as a co-production between the French animation company Marathon Media, the French television network Gulli and the American television network Nickelodeon in the USA. The show first premiered on March 2, 2015 on Nicktoons in the United Kingdom and Ireland. It premiered on Nickelodeon in France on April 13 and will debut on Gulli in late 2015.
Get Blake! was created by Antoine Guilbaud, an animator from France currently based in Los Angeles. Guilbaud's previous experiences in animation have included writing and storyboarding on hit series such as Rocko's Modern Life, Camp Lazlo and Phineas & Ferb. Acclaimed independent cartoonist Kaz, who had previously collaborated with Guilbaud on the latter two shows, was brought on board as co-executive producer.
The series tracks the exploits of Blake Myers, an adventurous boy who is destined to one day become a space ranger who protects humanity from alien squirrels called "Squaliens". The alien squirrels, however, are sent back in time to prevent Blake from fulfilling this destiny.
Characters
Edit
Episodes
Edit
See also: Episode guide (Main article)
| Season | Episodes | First aired | Last aired |
| --- | --- | --- | --- |
| 1 | 26 (50) | April 20, 2016 | TBA |
Broadcast
Edit
Get Blake! was originally going to premiere on Nickelodeon in the United States in April 2015, but it was later postponed to April 20, 2016 in Nicktoons. The series first premiered in United Kingdom & Ireland in March 2, 2015. In Nickelodeon Greece, it premiered on March 8, 2015. In Nickelodeon Russia, it premiered on March 14, 2015. In Brazil and Latin America, it premiered on March 16, 2015. In Southeast Asia, it premiered on March 30, 2015 after the Kids Choice Awards 2015 and the Bella and the Bulldogs sneak peek. It premiered at Sweden in April 3, 2015. In Netherlands and Belgium, it premiered on April 5, 2015. In Spain, Germany, Denmark, Austria, Switzerland, Poland, and Africa, it premiered on April 6, 2015. Although in Africa, it later moved to Nicktoons in November 2 for new episodes. In Nickelodeon France, it premiered on April 13, 2015. In Italy, it premiered on April 27, 2015. In Australia and New Zealand, it premiered on May 17, 2015.
External links
Edit
http://www.imdb.com/title/tt4573608/